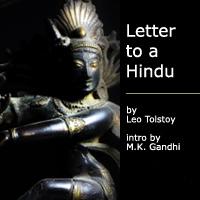 "A Letter to a Hindu" (also known as "A Letter to a Hindoo") was a letter written by Leo Tolstoy to Tarak Nath Das in 14 December 1908. The letter was written in response to two letters sent by Das, seeking support from the famous Russian author and thinker, for India's independence from British colonial rule. The letter was published in the Indian newspaper Free Hindustan. The letter caused the young Mohandas Gandhi to write to the world-famous Tolstoy to ask for advice and for permission to reprint the Letter in Gandhi's own South African newspaper, Indian Opinion, in 1909. Mohandas Gandhi was stationed in South Africa at the time and just beginning his lifelong activist career. He then translated the letter himself, from the original English copy sent to India, into his native Gujarati.
This letter, along with Tolstoy's views and preaching, helped to form Mohandas Gandhi's views about non-violent resistance. Gandhi's familiarity with Tolstoy began with his reading of The Kingdom of God Is Within You, which argues for a literal interpretation of Christian principles. Non-violent resistance was a major part of Tolstoy's own view of Christianity.
---
A Letter to a Hindu
The Subjection of India—Its Cause and Cure
With an Introduction by M. K. GANDHI
By Leo Tolstoy
---
All that exists is One. People only call this One by different names. THE VEDAS.
God is love, and he that abideth in love abideth in God, and God abideth in him. I JOHN iv. 16.
God is one whole; we are the parts.
EXPOSITION OF THE TEACHING OF THE VEDAS BY VIVEKANANDA.