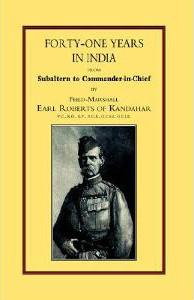 Field Marshal Frederick Sleigh Roberts, 1st Earl Roberts, Bt, VC, KG, KP, GCB, OM, GCSI, GCIE, PC (18321914) was a distinguished Anglo-Irish soldier and one of the most successful commanders of the Victorian era. He was affectionately known as 'Bobs' by the troops he commanded.
He fought in the Indian rebellion, seeing action during the siege and capture of Delhi, and was present at the relief of Lucknow, where he was attached to the staff of Sir Colin Campbell, Commander In Chief, India. In December 1858, Roberts was awarded the Victoria Cross for actions on 2 January of that year at Khudaganj.
---
A NEW EDITION, BEING THE TWENTY-NINTH
---
TO THE COUNTRY TO WHICH I AM SO PROUD OF BELONGING,
TO THE ARMY TO WHICH I AM SO DEEPLY INDEBTED,
AND TO MY WIFE,
WITHOUT WHOSE LOVING HELP
MY 'FORTY-ONE YEARS IN INDIA'
COULD NOT BE THE HAPPY RETROSPECT IT IS,
I DEDICATE THIS BOOK.