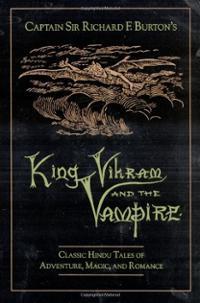 Classic Hindu Tales of Adventure, Magic, and Romance
Edited by his Wife Isabel Burton
"Les fables, loin de grandir les hommes, la Nature et Dieu,
rapetssent tout."
Lamartine (Milton)
"One who had eyes saw it; the blind will not understand it.
A poet, who is a boy, he has perceived it; he who understands it
will be
his sire's sire."--Rig-Veda (I.164.16).
---
Baital Pachisi or Vetala Panchavimshati (Sanskrit: वेतालपञ्चविंशति, IAST: vetālapañcaviṃśati, "Twenty five tales of Baital"), is a collection of tales and legends within a frame story, from India. It was originally written in Sanskrit.
One of its oldest recensions is found in the 12th Book of the Kathā-Sarit-Sāgara ("Ocean of the Streams of Story"), a work in Sanskrit compiled in the 11th century by Somadeva, but based on yet older materials, now lost. This recension comprises in fact twenty four tales, the frame narrative itself being the twenty fifth. The two other major recensions in Sanskrit are those by Śivadāsa and Jambhaladatta.
The vetala stories have been popular in India, and have been translated into many Indian vernaculars. Several English translations exist, based on Sanskrit recensions and on Hindi ("Baital Pachisi" is the Hindi title), Tamil, and Marathi versions. Probably the most well-known English version is that of Sir Richard Francis Burton which is, however, not a translation but a very free adaptation.