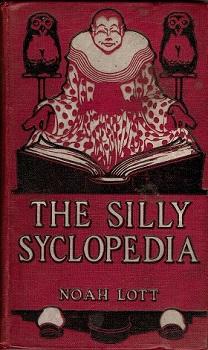 George Vere Hobart Philpot (1867-1926) was a Canadian author and humourist. He wrote under the pseudonym Noah Lott. He wrote The Silly Syclopedia in 1905.
---
The
Silly Syclopedia
A Terrible Thing in the Form of a Literary Torpedo which is Launched
for HILARIOUS PURPOSES ONLY Inaccurate in Every Particular Containing
Copious Etymological Derivations and Other Useless Things
By
Noah Lott
(An Ex-relative of Noah Webster)
Embellished with
Numerous and Distracting
Cuts and Diagrams by
Louis F. Grant
G.W. Dillingham
Publishers New York
---
Copyright, 1905, by
G.W. Dillingham Company
Entered at Stationers' Hall
Issued July, 1905
The Silly Syclopedia
---
  Lives of great men all remind us
    Life is really not worth while
  If we cannot leave behind us
    Some excuses for a smile!