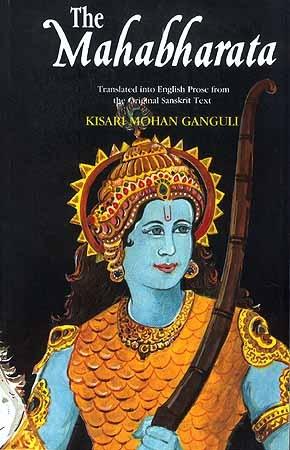 The Mahābhārata is an epic poem containing 100,000 verses and primarily dealing with the struggle for control over the throne of Hastinapura between the two branches of the Kuru clan, the Pandavas and the Kauravas. This struggle reaches its denouement in the battle of Kurukshetra.
The Mahabharata is replete with stories, stories within stories, philosophical discourse, and devotional material. Among the principal works and stories that are a part of the Mahabharata are the Bhagavad Gita, the story of Damayanti, an abbreviated version of the Ramayana, and the Rishyasringa, often considered as works in their own right.
With about 1.8 million words in total, the Mahabharata is roughly ten times the length of the Iliad and Odyssey combined, or about four times the length of the Ramayana.
As listed below, this epic is broadly divided into 18 parvas with each parva (chapter) further divided into upaparvas (sub-chapters). This version of the Mahabharata is a translation by Kisari Mohan Ganguli published between 1883 and 1896.