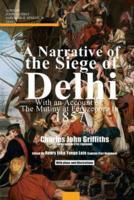 The Siege of Delhi was one of the decisive conflicts of the Indian rebellion of 1857.
The rebellion against the authority of the British East India Company was widespread through much of Northern India, but essentially it was sparked by the mass uprising by the sepoys of the units of the Army which the company had itself raised in its Bengal Presidency (which actually covered a vast area from Assam to Peshawar). Seeking a symbol around which to rally, the first sepoys to rebel sought to reinstate the power of the Mughal Empire, which had ruled much of India during the previous centuries. Lacking overall direction, many who subsequently rebelled also flocked to Delhi.
This made the siege decisive for two reasons. Firstly, large numbers of rebels were committed to the defence of a single fixed point, perhaps to the detriment of their prospects elsewhere, and their defeat at Delhi was thus a very major military setback. Secondly, the British recapture of Delhi and the refusal of the aged Mughal Emperor Bahadur Shah II to continue the struggle, deprived the rebellion of much of its national character. Although the rebels still held large areas, there was little co-ordination between them and the British were inevitably able to overcome them separately.
---
A Narrative of the Siege of Delhi With an Account of The Mutiny at Ferozepore in 1857
By Charles John Griffiths Late Captain 61st Regiment
Edited by Henry John Yonge Late Captain 61st Regiment
With Plans and Illustrations
London John Murray, Albemarle Street, W.
1910